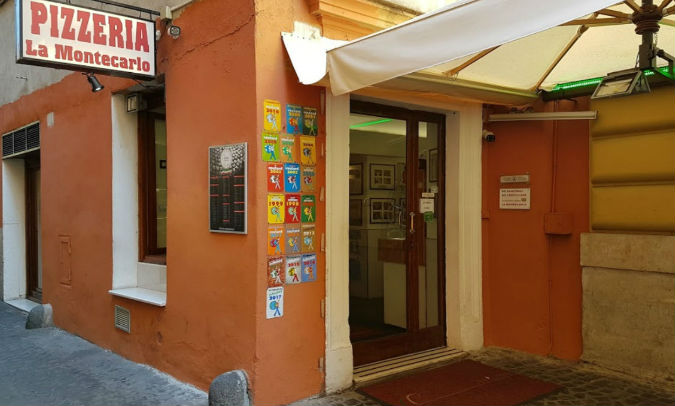 La Montecarlo, the dream pizzeria
It had been a mild morning in Rome, full of activity – including a general Papal audience in St Peter's Square, followed by a media conference for 200 plus in a badly mic-ed hall.
We stumbled into the Via della Conciliazone, whose length is dominated by Michelangelo's dome, with one thing on our minds – lunch. And more than that – a value for money lunch!
That sometimes seems like a miracle in Rome, but from the dim recesses of my mind I pulled up a memory of a thin crust pizza, well-priced, in a buzzy, not too touristy vicolo (another miracle!) near Piazza Navona.
What's its name, asked my lunch companion. No idea, I replied, but I will know it when I see it. We hailed a cab near St Peter's, and hopped out at the San Andrea della Vallee end of the Piazza Navona.  We wheeled right into Via Pasquino and arrived at Piazza di Pasquino. My lunch companion kept pointing out pizzerias in the hope that one of these might be the one I was looking for.  Not helpful.
We kept walking into the Via del Governo Vecchio and his moans were getting louder, which was incredibly distracting. I darted into a shop and asked the assistant if there was a pizzeria down a side street close by which had queues and great pizza. La Montecarlo, she suggested. Vicolo Savelli 13. It was the next turn to the left. Eureka! And then, just like that, there it was – the nirvana of pizza joints in Italy.
It looks like rubbish on the outside, but it has the best pizzas in Rome. They have been at it for 30 years or more. The lines which form at peak hour around here, full of locals, is testament to that fact. It's busy, buzzy, the waiters are quick and professional. And did I mention flirty?
Also… they take no cards here. Cash only. There are signs all around the rabbit warren-y restaurant which declare that. My dining companions – we had been joined by three others – seemed surprised by that at the end of their meal and looked to me to cough up the 15 euros for their beers and pizzas. That despite the fact the no credit card had been aimed at them for the best part of an hour. Shame I was carrying dosh only enough to pay for me and to make a loan to my first friend.
Here, for me, it is always the same order – the margherita and a couple of glasses of white wine. They have the usual menu choices including he house   specialty which I find quite disturbing… the Montecarlo itself boasts tomatoes and mozzarella, mushrooms, olives, pepperoni, sausage, artichoke, onion, and (inexplicably) an egg. Just writing that makes me feel a bit queasy  but I endure it for the best pizzas in Rome.
In Rome, it's a must visit… La Montecarlo.