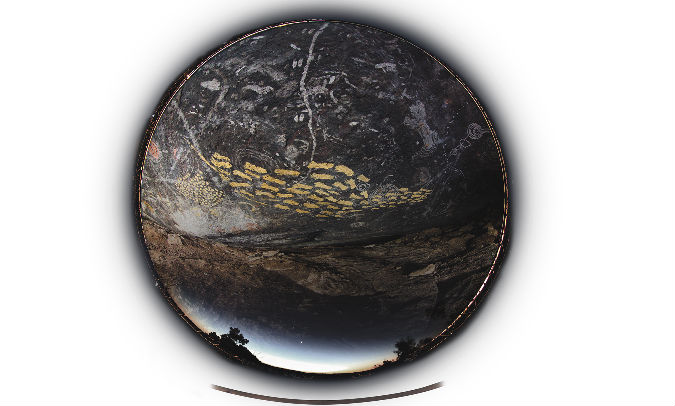 Songlines: Tracking the Seven Sisters at Canberra's NMA
As tense as a Hollywood epic, and as multi-layered as Greek mythology, the Songlines of the Seven Sisters dreamtime story rivals some of the great narratives. The ABC's Indigenous affairs correspondent Bridget Brennan reports.
Seven sisters leave Roeburn in Western Australia, tracking east over 500 square kilometres to the Anangu Pitjantjatjara Yankunyjatjara (APY) lands in the Northern Territory and South Australia.
The sisters are pursued by an evil shape-shifting spirt, a man called Wati Nyiru or Yurlu, who drives them across the land and into the night sky where they become the Pleiades star cluster.
"The sisters don't want to marry the Wati Nyiru, but the Wati Nyiru was a really tricky man," said Tapaya Edwards, a cultural ambassador of the Pitjantjatjara nation.
This creation story is shared by many clans in the Western and Central deserts, and it has now influenced a major Australian exhibition described as a world-first in scale and complexity.
Songlines: Tracking the Seven Sisters is a collaboration with Aboriginal elders who are custodians of the story. It will open tomorrow at the National Museum of Australia.
"It wasn't a museum idea, it was an Anangu idea," said Margo Neale, the museum's senior Indigenous curator.
"They came to us and said, 'Our songlines are being broken up, we want you mob to help us put them back together again'.
"That means tracking the Seven Sisters songlines, in this case, across three deserts."
The exhibition features the world's highest resolution DomeLab — a cave-like experience which projects images of the only known Seven Sisters rock art at Cave Hill in South Australia.
More than 100 detailed and vibrant paintings and 66 weavings, spears and sculptures are on show; each piece tells a story on the sisters' journey, allowing visitors to 'walk' the songlines.
Songlines: Tracking the Seven Sisters runs until February 2018.
Tracking the Seven Sisters: An epic songlines narrative brought to life at the National Museum (ABC News)