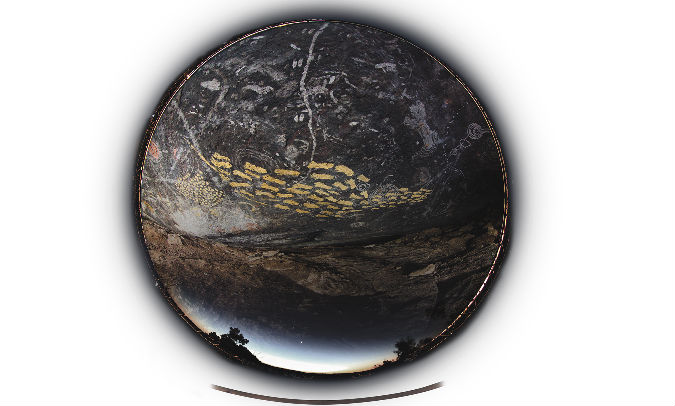 Songlines: Tracking the Seven Sisters at Canberra's NMA
As tense as a Hollywood epic, and as multi-layered as Greek mythology, the Songlines of the Seven Sisters dreamtime story rivals some of the great narratives. The ABC's Indigenous affairs correspondent Bridget Brennan reports.
Seven sisters leave Roeburn in Western Australia, tracking east over 500 square kilometres to the Anangu Pitjantjatjara Yankunyjatjara (APY) lands in the Northern Territory and South Australia.
The sisters are pursued by an evil shape-shifting spirt, a man called Wati Nyiru or Yurlu, who drives them across the land and into the night sky where they become the Pleiades star cluster.
"The sisters don't want to marry the Wati Nyiru, but the Wati Nyiru was a really tricky man," said Tapaya Edwards, a cultural ambassador of the Pitjantjatjara nation.
This creation story is shared by many clans in the Western and Central deserts, and it has now influenced a major Australian exhibition described as a world-first in scale and complexity.
Songlines: Tracking the Seven Sisters is a collaboration with Aboriginal elders who are custodians of the story. It will open tomorrow at the National Museum of Australia.
"It wasn't a museum idea, it was an Anangu idea," said Margo Neale, the museum's senior Indigenous curator.
"They came to us and said, 'Our songlines are being broken up, we want you mob to help us put them back together again'.
"That means tracking the Seven Sisters songlines, in this case, across three deserts."
The exhibition features the world's highest resolution DomeLab — a cave-like experience which projects images of the only known Seven Sisters rock art at Cave Hill in South Australia.
More than 100 detailed and vibrant paintings and 66 weavings, spears and sculptures are on show; each piece tells a story on the sisters' journey, allowing visitors to 'walk' the songlines.
Songlines: Tracking the Seven Sisters runs until February 2018.
Tracking the Seven Sisters: An epic songlines narrative brought to life at the National Museum (ABC News)
The three best bars in Florence, amended - 47 PlusPosted on 2018-06-04 05:09:07
[…] 47 Plus was in Florence last year, the editors found the three best bars in the city. And here they were. But in Spring, we went back. And sadly have removed one from the list, and added […]
Is house-swapping for you? One person's experience - 47 PlusPosted on 2017-11-29 01:34:56
[…] Read more on the insider's guide to Cannes here. […]
Is house-swapping for you? One person's experience - 47 PlusPosted on 2017-11-29 01:34:31
[…] of days, so she was able to introduce me to the butcher (Chez Pierre @ 32 Avenue de Lérins), the baker, the local supermarche (Carrefour City Cannes)  on 41 Boulevard Alexandre III. They weren't […]
What to binge on this week: The Sinner, The Line of Duty - 47 PlusPosted on 2017-11-12 00:27:59
[…] Mindhunter? Well, here is something which mines the same dark vein which once you are hooked you will […]
John CarsonPosted on 2017-09-29 14:00:20
I saw somewhere, recently, that his mansion on Mount Dessert Island, Maine, is also to be auctioned... so ending a fabulous period of philanthropy on this largely donated, island National Park, for which the Rockefellers have also provided carriage ways, stone bridges, and gate houses that are a testament to good taste and a more gentle lifestyle than is provided by almost daily cruise boat arrivals, just offshore, from the island's main village, Bar Harbour.
Judy McMahonPosted on 2017-09-29 02:22:37
Fantastic initiative Christine. Looking forward to some very good relevant reads! Thank you for doing this
Bea DougallPosted on 2017-09-28 13:47:46
Looking forward to this💕
BejoyPosted on 2017-07-20 01:29:04
Very nice