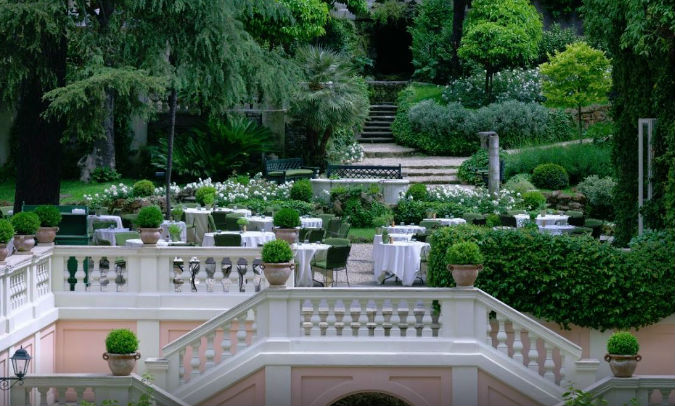 The Hotel de Russie at Sunday brunch – a star-studded event
This story is about four things: The Hotel de Russie's garden, the power of the unexpected, the benefits of solo travel, and also about not getting too up yourself.
It begins with a plan gone wrong. I had been in Italy for a conference, had a little holiday in Venice, Milan, and Tuscany, and was flying home to Sydney that evening. A perfect end to three glorious weeks would be lunch on the roof-top terrace of the Hassler at the top of the Spanish Steps, I thought. I could slowly wrap myself about a couple of Aperol Spritzes. More importantly, I could gaze at the stupendous view down the Via Condotti, across the Campo di Marzio, to Michelangelo's cupola on top of St Peter's.
So, I asked Signora Cinzia Pighini – the owner of Hotel Fontanella Borghese where I always stay in Rome – to make the booking. She looked a little depressed at the thought – a bit predictable, perhaps. Subsequently, she brightened up when she thought of an alternative: The garden of the Hotel de Russie, It was in Via del Babuino near the Piazza del Popolo, just up Via Condotti and to the left.  Here, she said, you could have a wonderful brunch for 65 euros (not including drinks) from 12.30pm to 3.30pm. Highly recommended by Signora Cinzia.
So having checked out, I booked a hire car to Fiumicino (at 50 euros and organised by the hotel, it is a great investment) for later. Then  took myself off on a slightly grey noon for a quiet wander up Via del Babuino, to Via Magutta (where famed director Fellini had lived), poked around in the little boutiques and was at the Hotel de Russie by 12.30.
Through the beautiful hotel (was there ever a Rocco Forte hotel which is not beautiful, with a slight edge?) through the downstairs part of the garden bar, up the statement steps to the top garden. A charming young woman, the maitre d', and seated me at a table for four, whisked away three place settings, and asked what I would like to drink.
I learned how to dine alone years ago, aided at first with a book, and now an iPad, which is a good thing because it got me out into the world where almost all the adventures are.
An Aperol seemed quite out of place in this placid oasis, with its white accents and green everywhere – up the walls and around corners. Only one thing for it – a Grey Goose with tonic. Perfect. There was a small relocation because of a the grey skies above had decided to leak slightly. That put the long table of wedding party behind me, and the birthday party for the 80-ish Nonno with his extensive family (many of them shared a glorious thing, a Roman nose) right in front of me. It was theatre expensively costumed by Chanel and Trussardi. Generations moved in and out, but Nonno stayed anchored. There were about 16 of them, not including the kids. You do the maths about how much that brunch cost someone.
This was a "scene" I suspected, and Signora Cinzia knew what she was talking about.  So let's get the food out of the way – it was a superb smorgasbord, the details of which have been erased because I had other things to consider. The service was warm, and efficient. Everything that could be hoped for. And then a group of people trooped between the Nonno theatre and me, heading towards the back corner of the garden.
A familiar scene
Followed by a gaggle of photographers, it was immediately evident that this was a press call. There were smoldering men, flighty young women in full make up and dresses abbreviated top and bottom, and a woman with short grey hair dressed like a chap in black who bossed the lot of them around. I worked in television long enough to know that this was a group of film creatives. The smoulderers were probably the stars, the young women too… and the grey-haired woman was probably the producer.
I asked the maitre d' who they were and she confirmed that this was indeed a photo call. The star was Riccardo Scarmacio, which is something I half-heard. Here is what the Getty Images caption reads for a shot taken that day:  Screenwriter Valia Santella, guest, Riccardo Scamarcio, Marina Fois, director Stefano Mordini and screenwriter Francesca Marciano attend a photocall for Pericle Il Nero at Jardin De Russie on May 7, 2016 in Rome, Italy. You will find the image here.
Except the "guest" was not a guest as all, but Viola Prestieri, the producer and the woman in black. (Getty Images guard their copyright keenly, but it is worthwhile having a look and paying  attention to the director, because he is of particular importance in this story. And I am sorry you cannot see in this photo just how blue his eyes were, or how wonderful he smelled. But I am ahead of myself.)
The photoshoot – which was to announce that their film was being shown at Cannes in the
Un Certain Regard
category –  complete, the whole group trouped away from the corner and headed towards a remote table for lunch.  And all of that was pretty interesting too. On a second pass, though, the man I now know to be
Stefano Mordini
, a biggish cheese in the Italian film industry both as an actor and director, walked back again.
I had noticed him, because he was incredibly attractive, so I was a little surprised when he stopped by my table, and bent down to speak to me. First, the eyes, then the voice, then the wonderful scent:  "Signora, tu sei la donna la piu elegante in questo giardino oggi."  Signora, you are the most elegant woman in this garden today. I managed to choke out a "Grazie, molto gentile, signore" (thought "Take that, Roman matrons!") and then he was off to his table behind me. And it was incredibly kind. (Note to self – compliment people more often.)
Beating ordinary money
I called the maitre d' over to see if she knew who he was, and to tell her what he had said. "Yes, Signora. It is easy to do when you are young, but not so easy when you are no longer young, and have ordinary money."  Talk about a clear-eyed balloon pricker! Funny though.
When I floated back to the Hotel Fontanella Borghese, I told Signora Cinzia about the stars in the garden of the Hotel de Russie. "Ma chi?" but who, she not unnaturally asked. Riccardo someone, I said. Riccardo chi? If it would have helped I think she would have squeezed my head. Now, this is a woman who is a glamorous as a movie star herself and whose mother-in-law,
Anna Maria Bugliari
, beat Sophia Loren to win Miss Italy 1950. She was very keen to know the name of the star, and was somewhat frustrated by my lack of attention to detail.  Riccardo Sk-something?
She went straight to the PC and consulted Google.  "Scarmacio?" she cried, bringing up a snap of the smolderer in chief. That's him! I told her what the other man had said to me and she looked as proud as Punch. "My guest! He said that about my guest!"
A bit of Google sleuthing later found the others, and a trailer for
Pericle il Nero
and an interview with
Stefano Mordini
about another film. Check out those blue eyes.
So, the four things. The unexpected. Check. Benefit of solo travel – would he have stopped to speak to me if I had not been alone? No way. And about no getting too up yourself – refer to the maitre d' (not young, with ordinary money) and Signora Cinzia – "My guest."
 Main image: The garden of the Hotel de Russie (From hotel website). Image 1: The view from the Hassler to the Vatican (From hotel website). Image 2: Stefano Mordini. Image 3: Stefano Mordini, as well. Image 4: Riccardo Scarmacio (Wiki Commons)