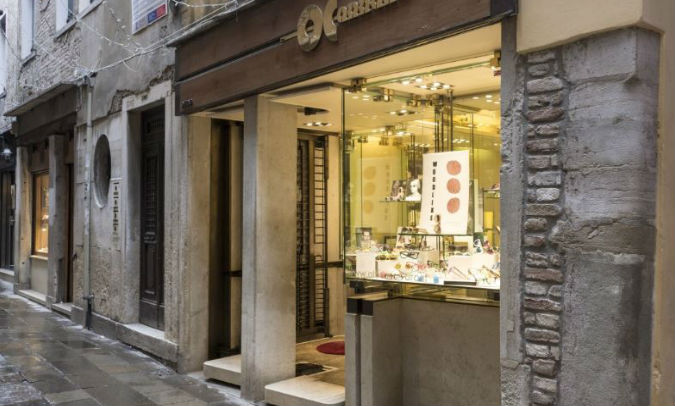 Looking for the best glasses shop in the world?
A chance visit to an optometrist in Venice bowled design editor Virginie Quartieri over. Now, she has to go back to Venice every two years to feed her addiction for Ottica Carraro glasses.
The waiter behind the counter in Venice's legendary Harry's Bar was mesmerising. Not for his skill with the bellinis, though that was considerable. He was, however, wearing the most fantastic pair of glasses – wood-finished, blocky across the top, matte black.
He looked like a young architect helping out at Uncle Harry's for the Sunday rush.
Where did you get those glasses, I asked, biting into a deep fried olive. "Ottica Carraro," he replied. "Just around the corner."
The very place was on my schedule for the following day. Take your current specs in at opening, pick out a new set of frames or two, toddle off to lunch, then return for the pick up around 4.  I knew the drill because I had already been seduced by the style, swiftness, and value of this place. A fantastic pair of glasses in about four hours, for around 120 Euros.
Elegant, efficient, reasonably priced
Please note this timing and price is not for your photosensitive, triple focals etc etc. You can get that sort of thing at home, wait weeks, and pay close to $800 depending on the frames. The choice is mind-blowing at somewhere like Spec Savers – like your phone plan but more visible. Nightmare.
(Of course, the beady eyed of you will have noticed the additional cost – getting to the shop in the first place. Amortise that by including a couple of days in Venice during your next trip to Europe. Stay at the Pensione Wildner, overlooking the Bacino, for around 500 euros for two nights. Or the Palace Bonvecchiati which will set you back around 750 euros for two nights. The Palace is very close to the Ottica Carraro.)
Located among the best-known shops in Venice, within the district of S. Marco in the elegant Calle della Mandola, which links Accademia to Rialto,  Ottica Carraro opened its doors 1967. And they have now have an on line service, as well.
This is the place to go if you are someone who wants to wear their glasses, not the other way around, a person who wants to be recognised for more than funky face furniture.
As I was taken to Ottica Carraro by friends who spend months there every year, I have also taken friends there (including a former beauty editor), and sent friends (including a former fashion magazine editor) as well. Everyone reports a similar story of the same fantastic service.
So if you happen to find yourself in Venice, call in and have a look. You will find the website here.